Dasha Rush transforms the powerful forces of nature into emotion-driven sound pieces. Whether it's her curiosity for astrophysics, fascination with extreme natural phenomena or the deepest desires of the human psyche, Dasha threads together her wildest dreams with many-layered dense techno, visual explorations and performative art. The Berlin-based producer, experimental sound artist, and DJ is known for her collaborative experimental projects performed at today's most forward-looking playgrounds for music and digital culture. She counts festivals such as Montreal's Mutek, Ars Electronica in Linz, L.E.V. Festival in Gijón, MIRA in Barcelona, TodaysArt in the Hague, Tokyo's Resonanz, Open Source Festival in Sopot, O Musica Danza Arte Terme di Diocleziano in Rome, Berlin Atonal, and CTM among others in her repertoire.
She is also a regular behind the DJ decks and extensive live set-ups of the worlds sweatiest pulsating dance floors. Tresor, Berghain, Fabric, De School and many other dark spaces have seen Dasha tearing the crowd apart. Both as her solo project and in live improvisation acts as a half of LADA (a duo with Lars Hemmering) or one third of Attention Deficit Disorder (Dasha Rush and AnD) Dasha has played her hard-hitting raw techno sets at festivals such Labyrinth, Awakenings, Dekmantel, Mutek, Astropolis, Rainbow Serpent among the others. Along with her tireless commitments to touring and interdisciplinary collaborative projects, the artist also held a Convergence Residency at the Banff Centre for Arts in Canada, and has participated in the curatorial board at 4DSOUND, Budapest's Spatial Sound Institute that also expanded to MONOM in Berlin in 2017.
Dasha started DJing in the early 90s, and debuted as a producer in 1998 with her first tape release. Living in Paris between 1996 and 2009, the Russian-born artist was also composing for small independent dance and theater performances and installations. Her first solo EP came out in 2004 on Huger to Create (the experimental sub-label of her imprint Fullpanda where she started to release her own music in 2005). In the following years Dasha kept shaping her poetic sound into full-length player on influential imprints Raster-Noton (Sleepstep, 2015) and an EP on Sonic Groove (Sonic State, 2010). On Fullpanda, Dasha has released material of her like-minded peers Stephanie Sykes, Donato Dozzy, Yuka, Stanislav Tolkachev among others.
While expanding her cross-dimensional portfolio, Dasha collaborated with dancers, painters, and video artists, always directing her vision supported by the craft of the other artists. In 2014, Dasha envisioned an audiovisual performance Antarctic Takt, a fantastic journey to the southernmost point of the Earth — Antarctica. Antarctic Takt was directed and composed by Dasha Rush and realized with the technical expertise and creative programming of videographer Stanislav Glaszov. It was originally developed for the Berlin Atonal festival 2014 in Kraftwerk in Berlin. With Antarctic Takt Rush intended to realize a tangible immersive experience and include an arrangement of architectural elements as well as water and ice structures that would grow on the concrete walls of Berlin's former power plant. Due to production and transportation constraints the visual part was reduced to a large screen version combined with Dasha's live electronic score, which was further showcased around the world at diverse multimedia festivals including Mutek, Ars Electronica, L.E.V. Festival, Resonanz, Auditorium (Peru), and Volt Festival (Sweden) among others. Pushing against the physical limitations, Dasha and Stanislav developed a 360-degree panoramic version presented at the Alexandrinskii Theater during the New Media festival in St.Petersburg. Finally, after three years of development, Antarctic Tact was realized as its most immersive embodiment — a full-dome version where a viewer can experience a 3D journey to breathtaking Antarctica. The simulation, generated with Touch Designer software, is a real-time multimedia content inspired by a fascinating and hostile pristine polar desert and is combined with a powerful live electronic score.
In June 2016, the musician presented her second audiovisual journey at the Mutek festival in Montreal, with her creative direction again supported by Glazov's technical craft. Dark Hearts of Space is a deep-listening performance and fearless dream of a one-way trip towards a black hole. Like the gravitational effects of this extreme and fascinating space phenomenon, Dasha's score for the piece is so strong that nothing — including particles of sound or light — can escape from inside of it. Dasha's initial idea was to create a real tunnel where a visitor could experience gravitation and low frequencies and feel as if being sucked into a black hole. For the time being, the performance is also realized as a real-time digital simulation and the artist are looking for possibilities to create a more interactive tactile experience with Dark Hearts of Space.
Dasha's latest attempt to bridge music, experimental theatrical performance, real-time generative visualization, and abstract poetry resulted in Territoires Éphémères, a project that premiered at Funkhaus Berlin in April 2018. Dasha conceptualized this piece, created music and cinematic visuals. Together with butoh dancer Valentin Tszin she directed the choreography for Territoires Éphémères, while Stanislav Glazov programmed and played generative visual content for the piece. Territoires Éphémères interpret the fragile realms of the psyche, such as the inconsistency of the memory, physical and mental frictions, and relativity of perception. The overarching idea of the performance refers to transitory audiovisual matter not meant to be retained or preserved. Opposed to conventional art objects and artifacts fixed in time and space such as a painting, music album, or film, their performance explores the idea of art 'jetable' (fr.) — an art piece that lives one day and cannot be repeated or conserved. Territoire Éphémères can only be experienced here and now.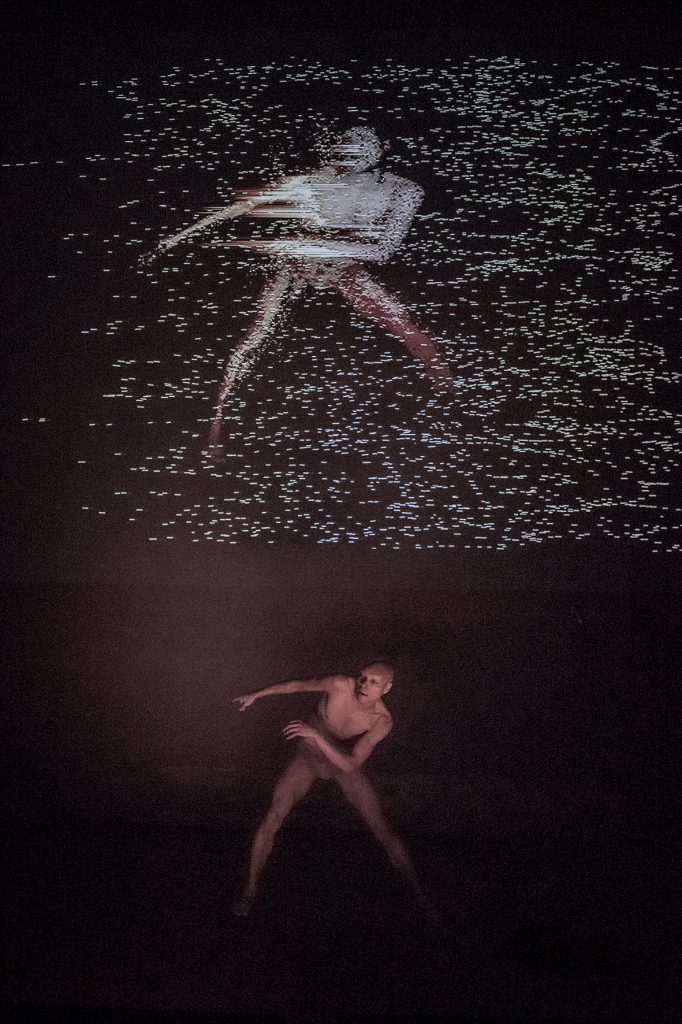 Territoires Ephemeres live – click here for more pictures

For press requests please contact ludovica@modernmatters.net
All rights reserved. The musical contents may not be published, broadcast, or redistributed in whole or part without the express written permission.